For those who don't know,
Ed Saunders
is one of the main places on the 'net these days to buy cartridges and styli, at least for certain brands. I got my cart from him a few years ago, and things were fine. However, right now he's got another one (Audio Technica 8008/331LP) up on
eBay
. The listing does say "Refurbished", but it's unclear exactly what's been "refurbished". The kicker is this line, though: "NEW genuine AT Shibata or Line Contact diamond stylus (Choice of winning bidder)". Now, Audio Technica no longer makes this cartridge, nor do they still make Shibata or Line Contact styli that will fit it (the original came with a line contact stylus). It's unclear what this means in the listing. I wanted a backup cart/stylus, so I asked:
Luke Pacholski wrote:You mention: NEW genuine AT Shibata or Line Contact diamond stylus (Choice of winning bidder). In the picture there are two styli. I know the red one is the LC stylus; is the white one the Shibata? What is the model number for that stylus? As I know these styli are no longer produced, how are they new? Thanks.
Here's the photo: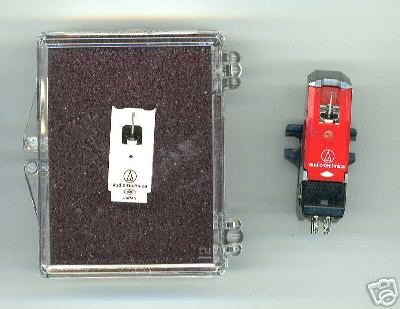 And the listing:
Offered Here is the Audio Technica 8008 Studio Reference special version of the 331LP cartridge

* Output: 5.0 mV
* Cartridge Type: Moving Magnet
* 31 dB Channel Separation
* Frequency Response: 10 ~ 35,000 Hz
* Tracking Force: 1.0 ~ 1.5 grams
* NEW genuine AT Shibata or Line Contact diamond stylus (Choice of winning bidder)
* P T4P or Standard 1/2 inch Mount
* Original Retail $150.00
I got this back:
Ed Saunders wrote:The redone pictured is the original and now ruined stylus that shipped with the 8008.
I don't know about you, but that makes no sense to me. The stylus in the photo is ruined?
Luke Pacholski wrote:Are you saying this won't come with a working LC stylus then?
That was met with:
Ed Saunders wrote:No.
I thought it was worth it to keep trying though, as these carts are fairly hard to find. Since I've seen various listings for styli that don't seem to be made to AT, I pressed the issue:
Luke Pacholski wrote:Could you then please clarify what stylus (or styli) come with this cartridge? You say they are "new". Are these new old stock? Are they AT styli, or aftermarket?
Somehow my questions prompted this:
Ed Saunders wrote:All the information you are asking is clearly in the auction listing written in plain and easy to understand English. If you would stop trying to re-write what I have said and just simply read, you would do a lot better. It's really of little matter, though as I have already blocked you from bidding on ANY of my auctions FOREVER.
Umm...ok. I thought I'd keep trying, though. I was of course a bit frustrated as well.
Luke Pacholski wrote:I don't know what your problem is. All I'm trying to figure out is what exactly you are offering. "NEW genuine AT Shibata or Line Contact diamond stylus" is not clear as 1) AT no longer makes such styli, and 2) it's unclear if "genuine AT" refers to both the Shibata and LC styli, or just the Shibata. The fact that the photo you show is apparently of a broken stylus adds to the confusion.

If you're going to be such a jerk I'll just take my money elsewhere, but I
purchased my last cart from you and was prepared to do so again. Good day.
That was met with:
Ed Saunders wrote:The Problem Is, Luke:

You know more than I do despite my 30 years in the business and my family's being in the recorded music business since 1906. So take your vast knowledge, your condescending attitude and your money elsewhere.
You'd think if he was in business that long he could answer a couple of simple questions. I ended with:
Luke Pacholski wrote:How is it condescending to ask questions about an item before buying?
But I don't expect a response.
It's worth noting that a friend of mine recently purchased a cart from Saunders. It was described as being "new", yet when my friend put it down on a record it was clearly damaged. He should have complained, but still wanted the cartridge (to use with other styli) and didn't want to bother.
I also found this:
eBay feedback
Code: Select all
needle is missing it's tip...appears to be an old used one
Buyer dlray1927 ( 21Feedback score is 10 to 49) Jun-17-05 12:48 6537465109
Reply by edsaunders: INSANITY! A $2.50 needle & I have 500+ in stock. Bidder should have contacted us Jun-17-05 14:34
Follow-up by dlray1927: A TEMPERMENTAL MORON..RIP OFF DONT BUY HERE SELLS USED NEEDLES AS NEW Jun-17-05 14:54
It certainly seems like he's taking used items and either branding them as "new" or avoiding getting into where they actually came from. And on top of it he's crazy.